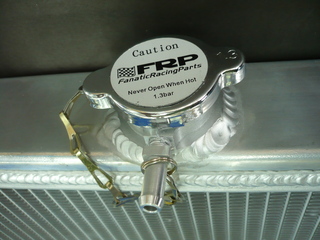 Just about everyone knows that the radiator is used to help keep an engine cool so that it can operate efficiently. Even the oldest of automobiles that inventors like Karl Benz created had a basic radiator as part of the construction of the vehicle to run a water cooling system. That basic design is still in place today, but thanks to modern construction techniques, an aluminum radiator has been able to take the best concepts of the initial design and improve it dramatically.
Why Choose an Aluminum Radiator?
Whether you drive every day for a commute to work or you want a quality upgrade that is lightweight, but still high performance, it's time for a better aluminum radiator. The aluminum is of a lighter weight, so you'll be able to get that competitive edge that you need. It really is one of the most important components of the modern engine because the heat dissipation is critical to any level of performance. A strong, lightweight radiator with a 100% aluminum core can make this happen for you in many instances with a straight part swap.
Why Choose Our Aluminum Radiator?
There are a few key advantages that you'll receive with our aluminum radiator thanks to our exclusive manufacturing process:
you'll receive up to 25% more cooling capacity thanks to the heat dissipation that occurs with the aluminum design;
you'll have a stronger, more durable radiator thanks to the TIG welding techniques that are utilized;
the coolant that passes through the radiator will cool an average of 45F with every cycle; and
our innovative design to keep the coolant where it needs to be instead of bursting out under high pressure/temperature conditions.
One of the biggest problems that the modern radiator faces isn't an improper balance of antifreeze and water, but contamination from metal particles that can develop over time in the fluid itself. A simple magnetic plug helps to draw these particles away so that there is less risk of harm to the radiator or the engine itself over time. Fewer particles in the coolant also means that there is a more consistent cooling process that occurs over the long-term.
The brazing process that occurs with this aluminum radiator also gives it a unique advantage. With a reduction of residual stress and very little distortion, it's the perfect part to join together metals that are dissimilar. There's no finishing of the joints either, which can cause unintended weaknesses to form during the typical manufacturing process. You simply get a quality radiator at a quality price that requires very little, if any, modification to fit most vehicles.
You don't have to have a high performance racing vehicle in order to benefit from the improved design of FRP aluminum radiator. Take a look for yourself to see that there is, in fact, a better way to create one of the most essential components your vehicle uses every time you get behind the wheel for a drive.