In the world of commercial turbochargers, there just isn't a whole lot of reliability. The compressor wheel in the average turbocharger is made from common alloy materials, which means it must be constantly checked to make sure it is still a viable part. It has a low cycle fatigue because of this design and that makes it prone to failure. Add in fatigue points from the bearings and even the turbine housing unit and you've got trouble!
What if there was a better way?
There Are Two Basic Solutions Available
In order to improve the design of the product, a stress reduction can be achieved by improving the structural design of the unit. By eliminating the high stress loads, the low cycle fatigue can be avoided and the compressor wheel will have more reliable results. If a structural design isn't feasible, then reducing the stress by changing the aerodynamic design of the unit can also reduce the impact of low cycle fatigue. Improvements in this area often impact the efficiency of the unit and the map width.
Fanatic Racing Parts' unique manufacturing process provides an end product that incorporates improvements in both design areas. Using a high grade aluminum alloy material combined with our exclusive process has produced a machined billet compressor wheel that will improve the durability of the turbocharger without robbing it of efficiency. Designed not to need an inducer recirculation slot, you will get an excellent flow capacity and still receive a high boost at turbo speeds with FRP turbocharger.
A Turbocharger Needs Good Bearings
The best turbochargers have ball bearings in them, but many don't use them simply because of the cost. They reduce losses caused by friction and provide major gains in turbine efficiency. In the average unit that does happen to have bearings, you'll find a plastic cage and steel balls being used. That's just a recipe for a disaster that you don't need!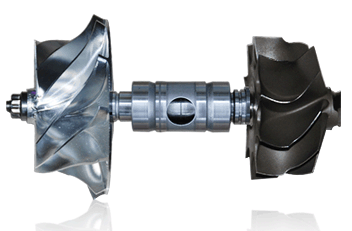 To find a better way, we approached the best practices of the industry today in the creation of Fanatic Racing turbos. You'll find ceramic bearings and instead of steel balls. You'll also find metal cages instead of plastic ones to improve the commercial durability of the unit. Whether we are using a dual ball bearing system or journal bearings in your preferred unit, what you'll receive is a long-lasting turbocharger that is ready to meet your needs when you demand it.
Let's Not Forget About the Turbine Housing!
Using high quality cast iron, Fanatic Racing Parts turbocharger will be able to stand up to the high temperature rigors of its environment over time, protecting your investment. Using high quality cast iron, you won't need to worry about experiencing a failure of the unit because of the craftsmanship of the unit. It's perfect for any application as well: street, racing, or even endurance.
There is a better way to make a turbocharger. With FRP turbocharger, you'll have discovered it for yourself!